Now you can finally vet the politics of your stock portfolio!
What is it?
The political spending index lets you easily vet and compare the politics of the stocks in your portfolio. The PSI measures how much a company and its senior employees financially support politics as compared to other companies. The PSI scores range from 0 to 100%, and measure the percentile rank of each company compared to our entire data set of nearly 2,000 companies on a total dollars donated basis. A company with a score of 99% for Democrat, for example, has donation totals to Democrats that are higher than 99% of other companies.
Currently we provide one overall PSI score and four subcategories: Democrat, Republican, PAC, and Managers & Executives. Soon we'll be adding PSI scores for common ETFs (e.g., SPY, VOO, and IVV) and mutual funds, so you'll easily be able to determine their politics as well. Here's a sample of the actual PSI scores for a few popular stocks: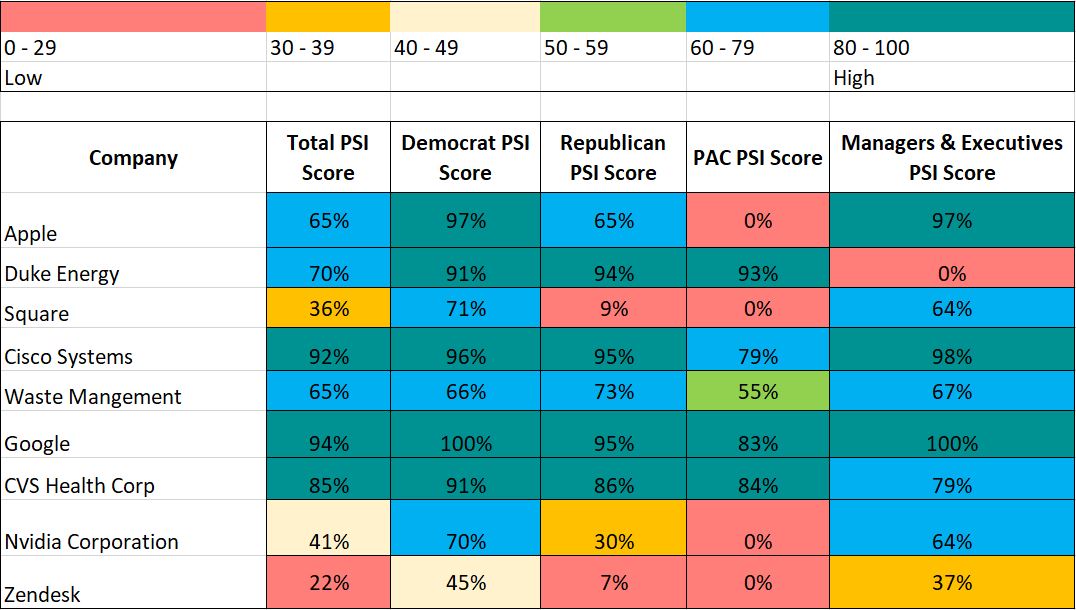 Why do I need it?
The PSI scores provide a competitive stock-buying advantage.
Companies donate money to political candidates for influence; with our index scores, you can now know who's spent the most compared to peers, and on which sides of the political aisle. The PSI scores help you vet a company's ability to weather election outcomes, win government contracts, successfully lobby legislators, and obtain regulatory approvals.
The data is new; it's not yet widely available. And it's only available through us.
The PSI scores can help you easily align your portfolio with your politics.
You work hard to get the capital that you invest. And there are plenty of stocks and funds out there. Get the PSI scores and wow your friends or your clients with your new ability to vet their portfolio's politics. If you're a financial advisor, you can offer this as a service to your clients, at no extra charge. Or you can use the data yourself to make sure your portfolio companies are not undermining your vote. We make it easy to compare and benchmark nearly 2,000 companies' politics.
How do I get it?
Individual, non-corporate subscription rates are $99/year. Just sign-up by going here. You'll get access for a full year to our PSI scores in an electronic, searchable database. The scores are constantly being updated; and you'll have access to new categories and companies that we are adding all of the time.
If you're a financial advisor or company and would like to incorporate our PSI scores into your business or offerings, please contact us at psi@goodsuniteus.com for special bundled rates.