You've probably noticed that Apple publishes lists of apps and games on their main page. This has been the case since iOS 11, and these "featured" apps represent the Chosen Ones by Apple editors: new games, apps, custom collections and developers' stories. This story helps more than 500 million app store users find apps and games that will improve their everyday lives.
Now for the Good news!
Goods Unite Us was just featured as the App of the Day! This is a huge deal because there are 1.9M apps in the App store, and just 365 days per year, which means that only 0.01% of apps ever get to this point!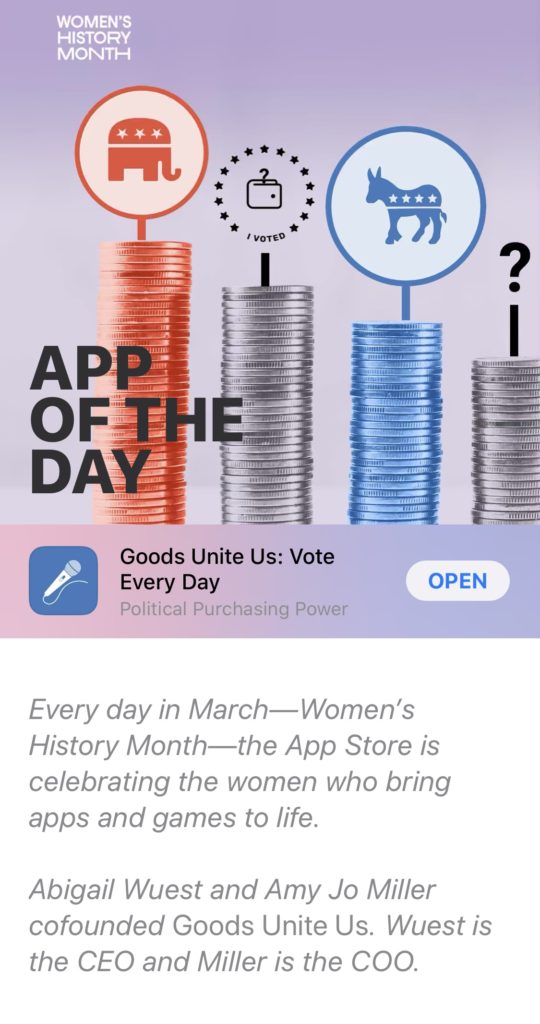 For over two years now, the Goods Unite Us team has relentlessly worked to continue to provide more transparency around corporate money in politics. We hand-curate all of our data and strive to uphold an organized and well-built platform for both consumers and brands. (Apparently Apple thinks so too) 
The transparency and accountability we provide empowers consumers to vote with their wallets. We care about our democracy, and we hope you do, too! Download the Goods Unite Us app here. And if you're a fan, please leave us a review in the app store (five stars is best).