See the POLITICAL donations of THouSANDS OF brands and companies!
Is your favorite company red or blue? Does it fund Donald Trump, Joe Biden, Mitch McConnell, or Elizabeth Warren? Or did it fund Hillary Clinton? Just download our FREE app by clicking here to find out. 
Enter a company name. And we'll tell you what we know about the political donations made by the company and its senior employees. See information on Apple, Walmart, Patagonia, Koch, AARP, New Balance, Starbucks, AT&T and thousands more!
Over 250,000 people have downloaded our app already. And it's the highest rated political app in the App Store (4.7 out of 5 stars).
The average consumer funds politicians and PACs about 3 times more through their purchasing choices than through direct political contributions!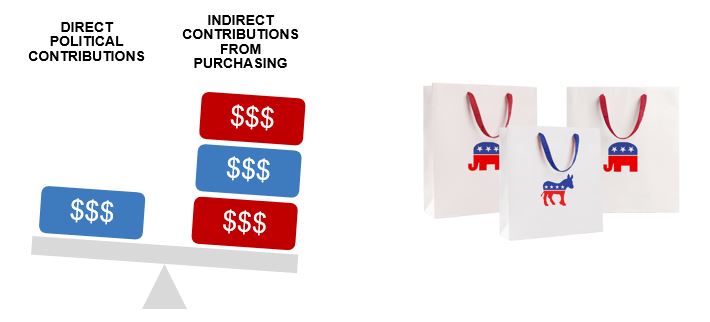 The app has information on clothing brands, home goods, car companies, restaurants, universities, sports teams, nearly 1,000 politicians and much more!
Download it now!