The team at Goods Unite Us is honored and humbled to announce a major new partnership with one of the world's top business review websites: Sitejabber. 
San Francisco based Sitejabber was founded in 2008 with private funding and a National Science Foundation grant and has been described as "the Yelp for websites and online businesses." The site now has over 3 million monthly visitors and includes reviews of over 100,000 businesses. 
Consumers create Sitejabber accounts to rate and review online businesses using an overall star rating as well as criteria such as service, value, shipping, returns and quality. Beginning on February 17, 2020, if you research a company on Sitejabber, you'll not only see consumer reviews and ratings, you'll also see its political leanings: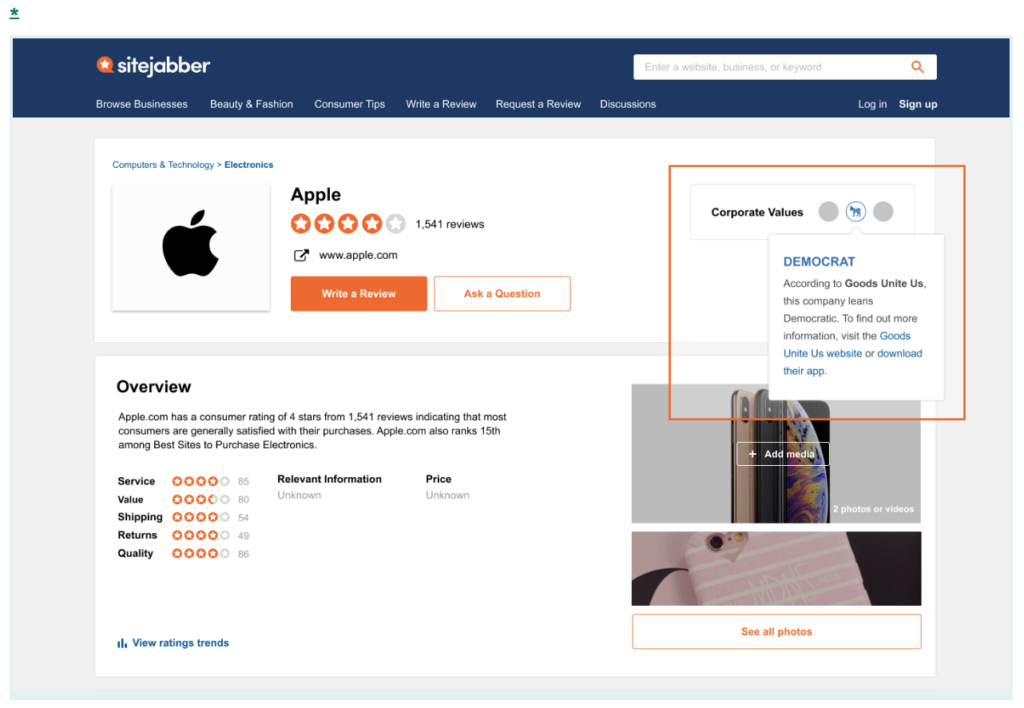 Truly, this is a partnership made in heaven! Sitejabber's millions of users will now have access to our hand-curated political data on brands and companies. And Goods Unite Us will be able to further its mission of getting as many people to shop according to their politics as possible.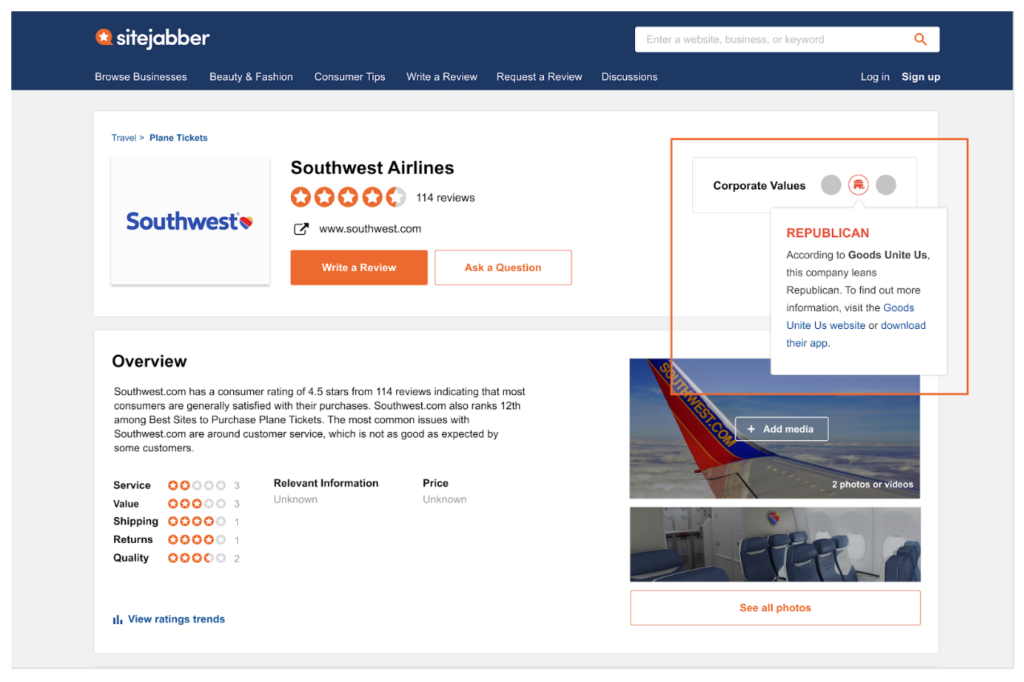 "Consumers today expect more than just great products and customer service. They want to know that the businesses they support align well with their values," says Michael Lai, CEO of Sitejabber. "We are excited to partner with Goods Unite Us to help discerning consumers understand the political and societal impact of their purchasing decisions." 
"Sitejabber's mission to help consumers make more informed purchasing decisions closely aligns with Goods' mission of helping consumers put their money where their vote is," says Abigail Wuest, Goods' CEO. "This partnership with Sitejabber is one more step to normalizing consumers making conscious, educated and informed purchasing decisions." says Amy Miller, COO of Goods Unite Us.
For over two years, the small but mighty team at Goods Unite Us has been working hard to provide consumers with political data on brands and companies. They've spent tens of thousands of hours vetting and doing research on companies, and Goods' metrics prove that consumers are hungry for this information.
In fact, studies by research companies like Cone Communications have shown that 87% of consumers will purchase a product based on their values and 76% will boycott a brand if it supported an issue contrary to their beliefs. Over the years, both consumers and companies have seen this play out with major brands like Soul Cycle, Hobby Lobby, and Chick-Fil-A.
The bottom line is that both Goods Unite Us and Sitejabber are thrilled with this partnership. The more information in the hands of consumers, the better.