Our Data
First for some context – Goods's data includes any donation made by a corporation's PAC or its major executives. Executives are defined as anyone with the title of Vice President or higher, basically the prime decision makers in the company. This ensures that Goods is capturing the true "political orientation" of a company and not just measuring the politics of the local labor force it's using. 
Our data covers 3 election cycles in order to give a better measure of a company's true behavior and to prevent big, end-of-cycle donations meant to game the system. When a new 2-year election cycle finishes, we update our data by adding in the new data and dropping the oldest cycle.
The Latest Results – Who Flipped?
We just finished our latest data update and we want to share which large companies (S&P 500 constituents in particular) have changed their political spending the most since 2015. Below are the companies who flipped, listed by the name of the party they now donate more to.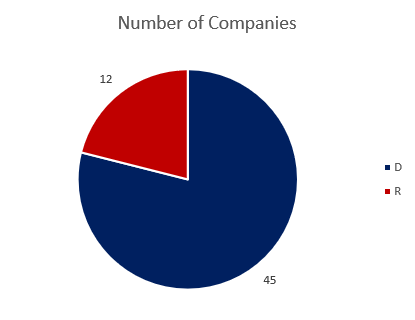 12 companies flipped to donating more to Republicans. 45 flipped to donate mostly to Democrats.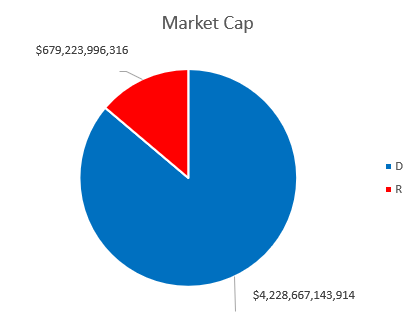 Here's the same data but by total market cap (as of July 2021).
Below are the names of the firms who flipped parties. They're ordered by the size of the flip, measured in percentage of total donations rather than raw amount.
Companies who Flipped Blue
Carrier

Extra Space Storage

Paychex

Catalent

Hormel Foods

Broadridge Financial Solutions

Jack Henry & Associates

Prologis

CDW

Philip Morris International

Qorvo

IDEX Corp

Dentsply Sirona

Discover Financial

McCormick & Co.

Healthpeak Properties

Bank of America

Fiserv Inc.

Federal Realty Investment Trust

Dover Corp

IDEXX Laboratories

Cognizant Technology Solutions

Dollar General

Activision Blizzard

Linde plc

Hilton Worldwide

Goldman Sachs

American Express

General Mills

JPMorgan Chase

Verizon

CBRE Group

Best Buy

Mondelez International

Darden Restaurants

Johnson & Johnson

Simon Property Group

Visa Inc.

State Street Corp

DXC Technology

Anthem Inc.

Citigroup

Kellogg's

Intuitive Surgical

T-Mobile
Companies who Flipped Red
POOLCORP

Old Dominion Freight Line

AMCOR

Rollins Inc.

Hershey Co.

Otis Worldwide

APTIV

Digital Realty Trust

Robert Half International

UnitedHealth Group

Viatris

Hartford Financial Services