Good News!  Goods Unite Us has launched several HUGE new features on our IPhone app!
You can now see a list of the major corporate funders for virtually every federal politician. Just search by the politician's name, and voilà, you can see whether Koch Industries, Starbucks, Patagonia, Hobby Lobby or any of the other over 4,000 brands and companies support them!  Here are some example screenshots for Donald Trump, Beto O'Rourke, Hillary Clinton, and Mitch McConnell:

And that's just one of our groundbreaking new features.

How does your wallet vote? Now it's easy to find out.
Users can now also answer a few questions about where they spend money and get an estimate of exactly how much of their hard earned money goes to Republican and Democrat politicians and PACs every election cycle. We call the estimate the user's "Wallet Vote."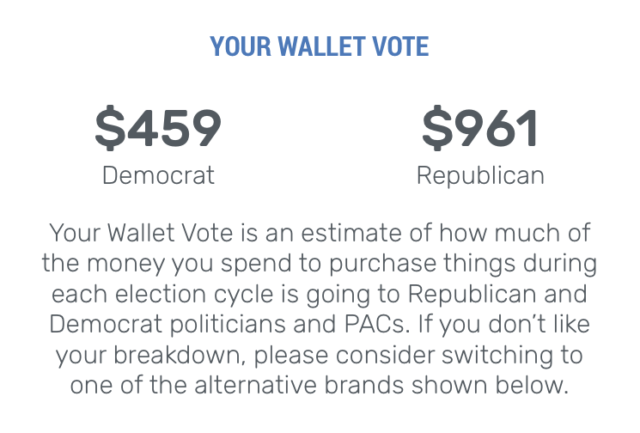 Our team at Goods Unite Us hopes that users will use their "Wallet Vote" numbers to change their purchasing behavior going forward. That's why our new app also gives users a list of alternative brands that better align with their own political beliefs.
Abigail Wuest, our CEO, says:
"At Goods Unite Us we believe that transparency around corporate money in politics is key to protecting our democracy.  And so we have taken steps to add even more data for consumers. This additional information provides consumers more detail on how a brand or company influences elections, and allows consumers to make even more informed choices."
These new app features will only help bolster our app's rapid user adoption. We've been adding over 20,000 new app users every month, who are collectively viewing over 600,000 brand and company pages per month. And y'all are loving and using our data – we've received hundreds of emails from our users in the last few weeks alone telling us how they're using it to change their purchasing behavior.  
Our goal is to reach 1M users on the app before the 2020 presidential election, bringing to fruition our mission of providing consumers with transparency around corporate money in politics. At the current rate of user adoption, it seems likely we will reach that goal!