If you're headed to the beach for a temporary winter escape, you're probably dreading the pain that awaits you: scrambling to find a swimsuit that suits you and your "winter body." Many department stores don't stock swimwear during the winter months; and even if they do, who wants to take their pasty, winter-white body to bask under unforgiving department store lighting to try on a slew of swimsuits? 
Not. Us.
But we have some good news! There are a two fabulous, online swimwear companies that are Goods-approved because they don't donate any money to politicians or PACs (and they make great swimwear). Our COO, Amy Jo Miller, vetted (and purchased) a few recently. Here's what she learned: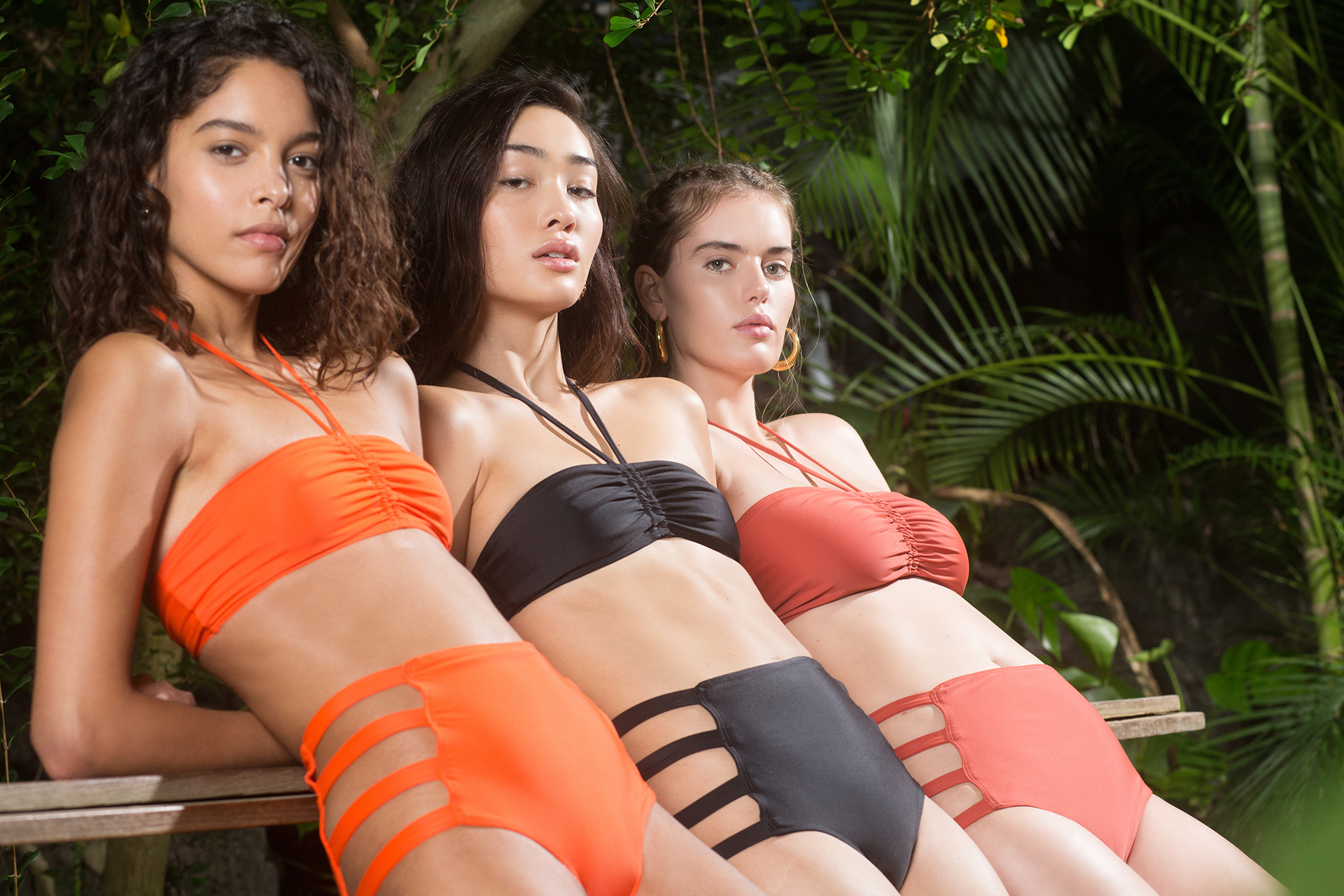 Daughters of Summer is gorgeous brand that our COO recently discovered while digital detoxing (ie., vacationing) in Bermuda. The suits are beach-friendly sexy™ (and super cute and elegant). 
Daughters Of Summer was founded in 2019 by designer Kim Deuss, who moved back home to Bermuda (from New York City) after her late stepfather tragically passed away in a diving accident. A diver herself, Kim wanted to honor her late stepfather's legacy and simultaneously achieve her goal of creating a responsible business geared towards making a positive impact, both in the industry and for the environment and society. If you know anything about the fashion industry, you'll know that this is no easy task! Kim chose the name Daughters of Summer to symbolize the unifying of women and as a name that embodies positivity and hope.
Daughters Of Summer's printed suits (like this one) are made of 78% recycled polyester and 22% elastane; and its solid suits are made of 78% ECONYL® regenerated nylon and 22% elastane. What exactly does this mean? Think fabrics made from pre- and post-consumer materials (like plastic bottles) and rescued materials (like fishing nets from the ocean), fabric scraps, and plastic from landfills all over the world. What's more, all of the materials used in the printing process are recycled, including the cardboard, inks and transfer paper.
Daughters of Summer swimsuits can be bought in-store at The Skinny Dip Palm Beach store in Palm Beach, Florida or online (with free returns within the domestic U.S.).

It's possible that you've seen Andie Swim on Instagram; they're the self proclaimed "unicorn of swimwear." What can we say? Their suits are great! 
One thing that sets Andie apart is its "fit quiz," whereby women can answer a series of questions, and Andie recommends specific styles for her preferences and body type. The company then uses information from the fit quiz to listen to what women want, and bases future designs on the data. The quiz really works too — we were impressed.
Andie's also offers free shipping for orders above $100 and free returns. In fact, it encourages women to order lots of suits in different styles and colors, try them on in the comfort of their homes, and then send the ones they don't want back. This was really handy. Plus, according to the Goods app, Andie's Campaign Finance Reform Score is 100, which means the company doesn't play politics (which we love). Our COO caught up with, Cecilia, Andie's Social Media Manager to learn more. Here are some fun facts:
Andie was founded in 2016 by Melanie Travis. Founding Andie was a bold move, considering Melanie didn't really have experience in retail, fashion, or online retail. She simply struggled with the fact that finding the perfect swimwear – with a beautiful design, high-end fabric, and a cost that won't break the bank – seemed impossible. So she set out on a mission to change that, and Andie Swim was born!
Andie has grown to a team of 15 (all women) who work together out of an office in NYC's Garment District. Online orders are fulfilled in New Jersey (the company sells exclusively online for now) and can be shipped to the U.S., Australia, Canada and New Zealand. The fit of the swimwear is of the utmost importance; and Cecilia stressed to me that their mission is to build a community of amazing women who feel comfortable in their swimwear. 
Based on our analysis of several Andie's suits, the company is on point!