A lot of people on Twitter and other social media sites have been asking us for lists of the companies that supported the politicians voting for or against impeachment. Our existing tools can help you with this! And to make it easier, we've provided the vote breakdown for you below. (Since all of the Democrats and Independents voted to impeach, we're only showing the Republican votes.)
Just find out how the politicians in your state voted, and if they voted against your values, boycott the companies that have been bankrolling them. It's easy to do. To see the top corporate supporters of any of the Senators below, just open our free app, click on the Politicians tab, and pick whichever politician you are interested in.
Voted to Impeach
Alaska
Louisiana
Maine
Nebraska
North Carolina
Pennsylvania
Utah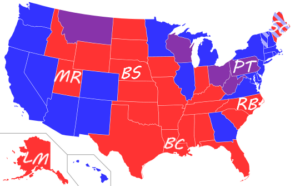 Above is a map showing the partisan composition of each state's Senate delegation. Red for 2 Republicans, Blue for 2 Democrats, Purple for one of each, and Grey stripes when one Senator is an Independent. Senators voting to convict have their initials displayed over their state.
As you can see, only two of the seven Republican votes for conviction, Toomey and Collins, came from purple or split states. Burr and Toomey are retiring after this term but the other 4 are from ruby red states, making their results more than a little unexpected.
Something that might help explain this: Cassidy, Sasse, and Collins wont face voters for another 5 years. Romney has long since established himself in opposition to the former President. Which leaves Murkowski, who faces re-election in 2022, as the odd woman out. 
Voted to Acquit
Alabama
Richard Shelby

Tommy Tuberville
Alaska
Arkansas
Florida
Idaho
Indiana
Iowa
Chuck Grassley

Joni Ernst
Kansas
Jerry Moran

Roger Marshall
Kentucky
Mitch McConnell

Rand Paul
Louisiana
Mississippi
Roger Wicker

Cindy Hyde-Smith
Missouri
Montana
Nebraska
North Carolina
North Dakota
Ohio
Oklahoma
Jim Inhofe

James Lankford
South Carolina
South Dakota
Tennessee
Marsha Blackburn

Bill Hagerty
Texas
Utah
West Virginia
Wisconsin
Wyoming
John Barrasso

Cynthia Lummis