After Senator Ted Cruz refused to certify President Biden's electoral college win, playing into the illegitimacy narrative that enabled the capitol riot, the team at Goods published his top donors. One thing that stood out during that analysis was the overrepresentation of non-PAC, non-employee giving. 
Further investigation revealed most of these to be income generated by renting the Senator's list of supporters to other groups. Email lists are common and valuable in politics. Lists of engaged supporters all the more so because of their proven willingness to donate to political causes. So the presence of list income itself wasn't surprising, but the Cruz campaigns' exceptional reliance on that income was.
To illustrate this, here are the top 10 organizations who've contributed to the senator since 2016.
Top Brands Contributing to Ted Cruz
Reignite  LLC

Westrogers LLC

Ax Media LLC

Woodforest Financial Group

Gibson Dunn & Crutcher LLP

Morgan Lewis & Bockius LLP

Targeted Victory

Pachulski Stang Ziehl & Jones

Maverick Homes

Avalon Advisors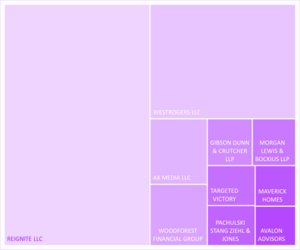 There are lots of Finance (Woodforest, Avalon) and Law (Gibson, Morgan, Pachulski) firms, as you would expect. Then some Media companies (Westrogers, Ax), which is a little less expected. As it happens, Westrogers and Ax Media weren't paying the senator's campaign. Rather, the sum of their contributions came in the form of refunds. 
The size of the refunds make it extremely unlikely they represent accidental overpayment. Especially in the case of Westrogers who worked on Senator Cruz's 2016 presidential run, the refunds may have resulted from a money-back guarantee of some sort. Ax Media may also follow this pattern, but unlike Westrogers, it's owned by Sen. Cruz's 2018 campaign manager, Jeff Roe. Simply put, the data doesn't tell us what happened here, only what didn't (a monetary contribution). So we'll remove those 2 data points from our top 10 list.
Data Income vs. Contributions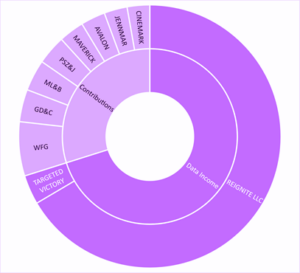 Doing so gives us 2 new companies (Jennmar and Cinemark USA) and increases the relative size of Reignite LLC. Reignite is the Senator's in-house list rental business which Politico covered during the 2016 election. All of its contributions represent income derived from renting access to Sen. Cruz's supporters. 
To the casual observer, this looks like profiting off a position of power. Since the money is always reinvested in campaigns, rather than trips to Mexico, it's completely legal and not uncommon in politics. The difference is Senator Cruz's unique dependence on these sales to raise money for his campaigns.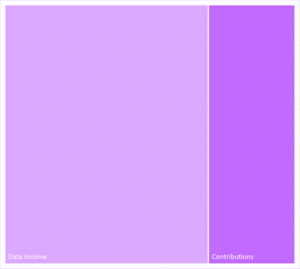 Here, we've combined Targeted Victory's list rental payment with the income from Reignite. This view makes it even more apparent just how critical the data business is to Sen. Cruz's fundraising. And as always, the affected supporters aren't aware that they're being monetized.
Top Sources of Fundraising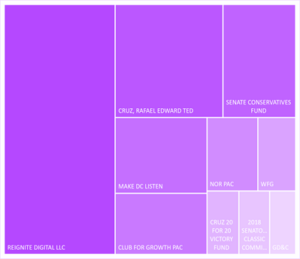 Lastly, here are the top 10 contributors, PAC, income, or otherwise. Even from this perspective, it's obvious that list rental income is unusually important. In total, it's accounted for nearly $2m in income since the 2016 election. Like the saying goes, there's no such thing as a free lunch. *
*Goods Unite Us does not monetize its users' personal information. 👍