The Inflation Reduction Act is the largest investment ever made by the U.S. government to counter climate change. In total, it puts $370B toward climate action and is estimated to curb greenhouse gas emissions by twice the amount the nation was on track for without the law.
Most of that money goes toward rebates and tax credits for clean technologies like wind and solar power, heat pumps, and electric cars. There are also incentives to manufacture that tech domestically, and the IRA includes the first methane fee, to crackdown on emissions of one of the most harmful greenhouse gases, and funds numerous energy efficiency upgrades for various industries.
Inflation is involved because estimates put the blame for about a third of recent inflation on rising fossil-fuel prices. Reducing reliance on that form of energy should make a significant dent in the problem.
As the Sierra Club proclaimed when the IRA was passed:
"Today, the House passed the largest investment ever in climate and clean energy, sending the Inflation Reduction Act of 2022 (IRA) to President Biden's desk for signing. This historic legislation directs $369 billion to over 100 programs that together will chart a path to reducing emissions by 40 percent by the end of the decade."
Who voted against the IRA, and which corporations funded those politicians?
All 50 Democratic senators voted for the bill, with Vice President Kamala Harris breaking the tie. All 220 Democratic members of the House also voted for the bill, with all Republicans voting against.
The biggest donors to those voting against the bill were, understandably, also the biggest donors to the Republican Party. After filtering out Leadership PACs, which are used within parties to control the flow of funds to both defend members facing tough campaigns as well as incentivize them to tow the party line during votes, and companies that specialize in campaign strategy and media buys, which skew their data, we're left with the major corporate fighters of the IRA:
In the House, employees of Fisher Investments, Blackstone, and Uline, as well as the PACs for AT&T, The American Crystal Sugar Company, and Koch Industries.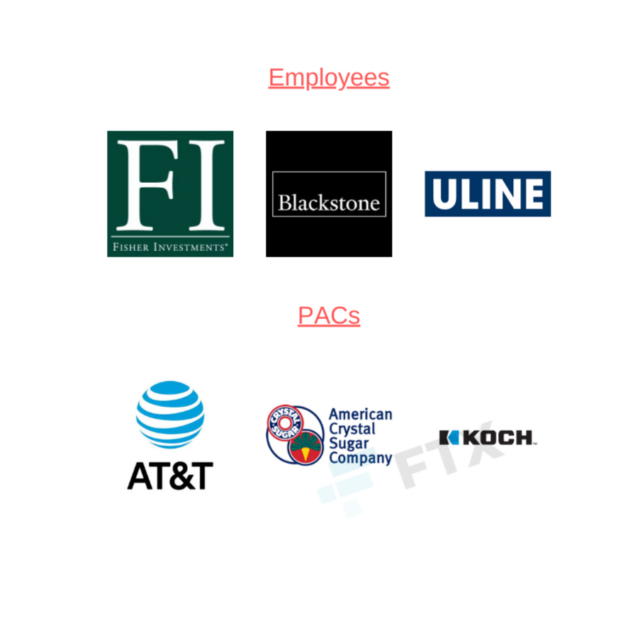 Interestingly, failed crypto exchange FTX was 4th in terms of individual donations, mainly due to former co-CEO Ryan Salame but also a few donations from Sam Bankman-Fried. Something called Plano 5500 LLC initially appears to take the 4th spot until some digging reveals that it apparently functions as the political donation vehicle of Sherrilyn Fisher, wife of Kenneth Fisher, founder of Fisher Investments.
In the Senate, employees of Apollo Global Management, Blackstone, and The Capital Group along with the PACs for Fidelity, and Charles Schwab, and Delta Airlines.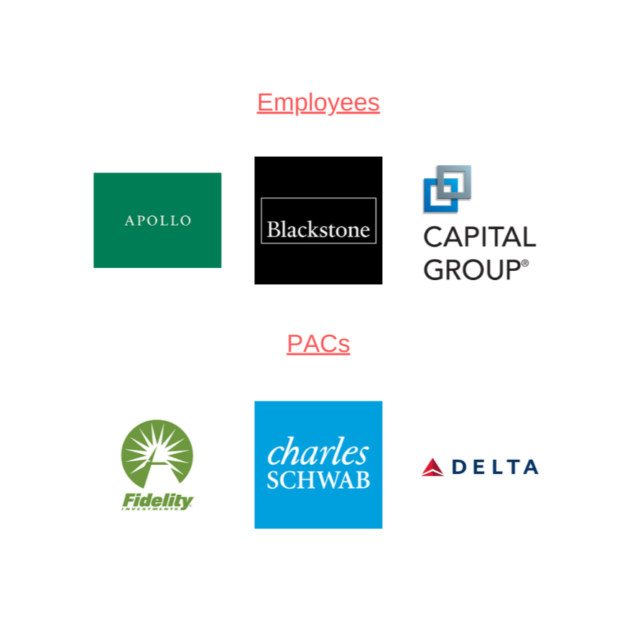 The bottom line here, is if you want to support the climate, pay attention to who your brands are supporting. It matters.