By now, you've probably heard of E-S-G investing. ESG is a hot trend on Wall Street; and it's been in the news a lot recently. 
Generally speaking, ESG funds are intended to allow you to invest in a group of companies with high Environmental, Social, and Governance ratings. Hence the name E-S-G. 
The idea is that when you invest in ESG funds, you're investing with your values. 
As an investment paradigm, ESG has always attracted more progressive investors than conservatives, especially at the outset when it was often referred to as "corporate social responsibility" investing. In fact, the Free Enterprise Group has found that, "more than 95 percent of all shareholder proposals that focus on environmental, social, or governance (collectively "ESG") issues are submitted by liberal interest groups." 
Obviously, environmentalism and social justice have always been more popular on the left. But the liberal lean of ESG investors probably has as much to do with conservative thinking, in general, reflecting Milton Friedman's famous assertion that, "there is one and only one social responsibility of business—to use its resources and engage in activities designed to increase its profits…" It's a worldview that creates natural skepticism about things like ESG.
Unfortunately, as the New York Times and other major media publications have recently pointed out, ESG funds are often far from what is advertised. That's because there is not a standard and verifiable methodology to assign ESG scores or ratings to a company. 
In fact, at Goods Unite Us, we are highly skeptical of most ESG ratings. We are skeptical because they are not based on real, verifiable data. Instead, many ESG ratings are simply based on what a company reports about itself in its own annual sustainability report.  
Since the whole idea behind ESG investing is that you are investing with your values—and ESG values mostly align with liberal ideals—we decided to dive into the data to determine which set of political values ESG funds actually support. 
More specifically, we performed a stock-by-stock analysis of one of the largest ESG funds on the market according to assets under management (or AUM): the Parnassus Core Equity Fund (PRBLX). This mutual fund holds nearly $30 billion dollars worth of people's money (presumably most of which comes from left-leaning investors). 
The investment research company Morningstar rates funds based on ESG criteria. And last year, Morningstar ranked Parnassus as the only asset manager worthy of its 'Leader' designation, which it defines like this: 
"Firms and strategies that earn the Leader designation integrate ESG factors fully into their security analysis and portfolio construction, and they deliver desirable ESG outcomes at the portfolio level, such as a high sustainability profile or advancement of the U.N. Sustainable Development Goals."
Morningstar describes the PRBLX fund as being, "driven by a rigorous, firmwide approach to ESG investing that is a head above the competition" which, "excludes companies involved in controversial businesses and then employs ESG, quality, and valuation screens to filter out about 85% of the benchmark."
We measured the political lean of every company in the PRBLX fund as well as the lean of the fund itself, which is the same metric but scaled by how much of each stock is in the fund. It turns out that based upon political contributions, the Parnassus PRBLX ESG fund should probably change its name to the PRBLX E-S-GOP fund.
Here are the results:
PRBLX
# of companies in fund: 40
Avg. donation to Republicans: $2,175,757
Avg. donation to Democrats: $1,985,727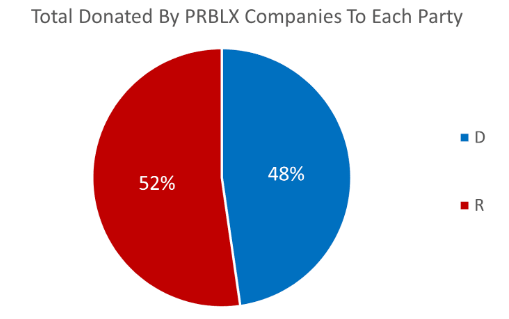 The companies just in the fund's top 20 holdings have contributed $47.9 million over the past three federal election cycles to conservative politicians and PACs.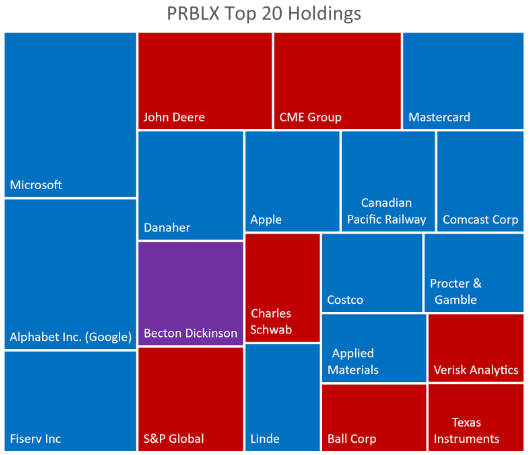 Two of the top five holdings in the fund mostly donate to Republicans: John Deere and CME Group. 
One of John Deere's top five politicians contributed to is minority leader Kevin McCarthy. And one of CME's top five, Richard Burr, does not believe people caused climate change, and he opposes the regulation of greenhouse gases.
Companies in PRBLX's portfolio have also contributed heavily to the following politicians:
Marco Rubio (Charles Schwab)

Ted Cruz (Texas Instruments)

Donald Trump (Waste Management)

Steve Scalise – House Minority Whip (Boston Scientific)

Rick Scott – Chair of the NRSC (Home Depot)

Roy Blunt (Home Depot)

Elise Stefanik – the Chair of the House Republican Conference, who courted controversy for using the Great Replacement Theory in her campaign ads (Alexandria Real Estate Equities)

John Cornyn, who holds a 0% lifetime score from the League of Conservation Voters for his record on environmental issues (Union Pacific) &

Lindsey Graham (Union Pacific)
In fact, if you dig down and look at the companies that are included in many of the largest ESG funds (e.g., iShares ESG MSCI USA ETF (ESGU) & Vanguard FTSE Social Index Fund Admiral (VFTAX)), you'll find many of the same companies that have been bankrolling Republican politicians and PACs.  These are the same Republican politicians and PACs who in turn are trying to undermine ESG ideals by pushing tax breaks for fossil-fuel companies and working to undermine women and minority rights.
At Goods Unite Us, we believe using political contribution data to determine a company's values is significantly more accurate than any of the ESG ratings available today. That's why we helped to launch the Democratic Large-Cap Core Fund (ticker: DEMZ) in late 2020. 
DEMZ is our version of an ESG fund. It only includes companies that have donated 75% or more to Democratic causes and candidates. We believe that measuring the political giving by a company and its senior management provides a much better indication of a company's true values than any outside rating firm could ever measure.
And so far, Morningstar agrees. The DEMZ fund recently received Morningstar's highest sustainability rating (five globes out of five), and Morningstar noted that, because DEMZ contains no Energy or Utility stocks, DEMZ is also "fossil fuel free."
Oh, and DEMZ has also done better financially compared to many of these E-S-GOP funds. DEMZ outperformed PRBLX and many of the other large ESG funds in its first full year (2021), and DEMZ has continued to outperform them during the first two quarters of this year. Best of all (if you're a liberal investor), DEMZ will never include any Republican-leaning companies in its fund. 
FULL DISCLOSURE

: Goods Unite Us is a non-partisan provider of political data. We do, however, license our data to the fund manager for DEMZ, and therefore Goods Unite Us has a financial interest in DEMZ. The analysis conducted herein is based solely on publicly available political data from the FEC. PRBLX's fund portfolio was analyzed as of April 1, 2022.
Carefully consider the DEMZ fund's investment objectives, risk factors, charges, and expenses before investing. This and additional information can be found in the fund's summary or full prospectus, which may be obtained by calling (888)-750-DEMZ (3369). Please read the prospectus carefully before investing.
Investing involves risk, including the possible loss of principal. There is no guarantee or assurance that the methodology used to create the Index will result in the Fund achieving positive investment returns or outperforming other investment products.
The fund is subject to the risks associated with the information technology sector. Such issuers may underperform the market as a whole due to legislative or regulatory changes, adverse market conditions and/or increased competition affecting the Information Technology Sector.
The funds are distributed by SEI Investments Distribution Co, which is not affiliated with Reflection Asset Management, LLC.
Shares of ETFs are bought and sold at market price (not NAV) and are not individually redeemed from the Fund. Brokerage commissions will reduce returns.