According to its website, the American Conservative Values ETF (ticker: ACVF) allows you to "align your investments with your conservative values" and to "stop investing in the liberal agenda." The fund trades on the New York Stock Exchange (NYSE). And it has garnered a lot of media attention recently. In fact, Yahoo Finance in May announced that the fund had "welcomed Woke, Inc. author Vivek Ramaswamy to the politically conservative investing community."
ACVF's investment thesis on its website certainly makes the fund sound pretty conservative:
The American Conservative Values ETF (ACVF) is based on the conviction that politically active companies negatively impact their shareholder returns, as well as support issues and causes which conflict with our conservative political ideals, beliefs and values. . . .We believe conservatives either unwittingly or begrudgingly support the liberal agenda with their current investments. . . .The [fund]  is an actively managed diversified large-cap core ETF seeking to boycott as many companies hostile to conservative values as possible.
Given that company politics is what we do here at Goods Unite Us, we thought we'd take a look under ACVF's hood to see how conservative the companies in the fund actually are.
And boy, were we surprised with what we found!
ACVF Is Not Actually Conservative
We analyzed the entire fund, all 400+ holdings. But it didn't take long for us to figure out that something was amiss. Four of the fund's top five holdings–Microsoft, Tesla, Costco, and Nvidia–have overwhelmingly contributed to Democratic politicians and PACs over the last three federal election cycles.
You read that right: ACVF's top holdings are Democratic companies, not Republican companies.
And there's more. ACVF actually has a lower percentage of Republican companies in it than the entire S&P 500. Forty-nine percent of the companies in the S&P 500 (SPY) contribute significantly more to Republicans than to Democrats. That figure for ACVF is forty-seven percent. Put another way, ACVF is actually not as conservative as the entire S&P 500.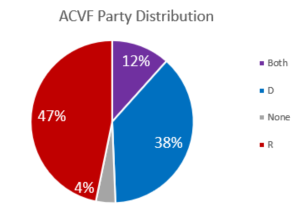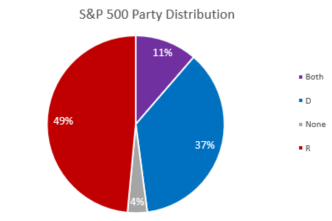 So, What's Going On?
ACVF does not consider political giving at all when determining which companies to include in their fund. Instead, the fund "seeks to boycott ownership of the worst companies which the adviser determines support liberal causes, charities, advocacy groups, campaigns, candidates, PACs, and think tanks." In other words, the fund's advisor gets to pick. And he puts out a boycott list.
But we looked at the politics of ACVF's boycott list too–which the fund advisor says are the "worst of the worst" companies that are "the most hostile to conservative values." It turns out that a number of the companies the advisor has put on the fund's "boycott list" are actually very Republican-supporting.
Lowe's is on ACVF's boycott list, for example, even though Lowe's and its senior executives have given 73% of their contributions to Republicans during the last three federal election cycles. Goldman Sachs is also on the boycott list, yet it was the number one company we identified as helping to flip the Supreme Court conservative.
The bottom line is that the advisor for ACVF might think the fund is conservative. But based on actual political contribution data, it isn't.
FULL DISCLOSURE: Goods Unite Us is a non-partisan provider of political data. We do, however, license our data to the fund manager for DEMZ, the index fund designed for Democrats. Therefore, Goods Unite Us has a financial interest in DEMZ. The analysis conducted herein is based solely on publicly available political data from the FEC. ACVF's fund portfolio was analyzed as of July 2022.
Carefully consider the DEMZ fund's investment objectives, risk factors, charges, and expenses before investing. This and additional information can be found in the fund's summary or full prospectus, which may be obtained by calling (888)-750-DEMZ (3369). Please read the prospectus carefully before investing.
Investing involves risk, including the possible loss of principal. There is no guarantee or assurance that the methodology used to create the Index will result in the Fund achieving positive investment returns or outperforming other investment products.
The fund is subject to the risks associated with the information technology sector. Such issuers may underperform the market as a whole due to legislative or regulatory changes, adverse market conditions and/or increased competition affecting the Information Technology Sector.
The funds are distributed by SEI Investments Distribution Co, which is not affiliated with Reflection Asset Management, LLC.
Shares of ETFs are bought and sold at market price (not NAV) and are not individually redeemed from the Fund. Brokerage commissions will reduce returns.