We've compiled the top backers to Senator Kelly Loeffler's (R) campaign, which will help decide control of the Senate and with it, the course of COVID relief and President-Elect Biden's first 2 years in office. 
In keeping with our mission statement, this list does not rank PACs themselves, just the companies whose executives or subsidiary PACs have contributed to the Loeffler campaign. In cases where one individual comprises the majority of a brands' donations, that individual will be highlighted to clarify the stance of the impacted company.
Senator Loeffler's top 10 backers: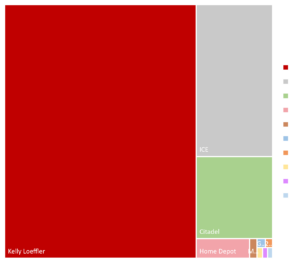 Kelly Loeffler
Citadel LLC
MLU Services
Georgia Crown Distributing
28th Street Ventures
Fisher Investments
The first thing that jumps out about this list is that Kelly Loeffler is Kelly Loeffler's biggest backer! Before being nominated to replace Johnny Isakson by Georgia's governor, she was an executive at Intercontinental Exchange, then one of its subsidiaries, Bakkr. Kelly also co-owns the Atlanta women's basketball team. Her extensive business record makes tying her fortune to any one company difficult, but the sheer scale of her contributions makes her worthy of a dedicated place on the list.
Standouts
Next up is Loeffler's former company Intercontinental Exchange (ICE), which owns the New York Stock Exchange. Loeffler's husband, Jeffrey Sprecher, is the Chairman of the NYSE in addition being the Chairman, Founder, and CEO of ICE. His $5m contribution to the pro-Loeffler Super PAC, Georgia United Victory, accounts for the majority of ICE's total.
Third is Citadel LLC, a hedge fund and financial services company founded by Ken Griffin. His 3 million dollar contribution to Georgia United Victory (GUV) again accounts for the majority of Citadel's total.
GUV is also responsible for Home Depot's entire contribution. Bernie Marcus, its co-founder and first CEO, contributed half a million to the PAC. Even though he's been retired since 2002, as recently as 2019, he's stated that most of his wealth is in Home Depot stock. So, while Marcus no longer runs the company, Home Depot revenues flow to Marcus and the candidates he supports, which is important for consumers to know. 
Backers 5-9 also mostly owe their positions to donations made to GUV by a chief executive or founder. Their total donations are all under 100k and as the graphic shows, pale in comparison to what's already been examined.
In 10th place is the first company not affiliated with GUV since the candidate: the private equity firm Blackstone. At just over $25k, their contribution is nearly 1000x less than the top donor which is easily the largest range we've ever encountered in a top 10 donors list.
Clearer Views
The uniquely compact nature of Senator Loeffler's donor list lets us separate out the 3 major names at the top: Jeffrey Sprecher from ICE, Ken Griffin from Citadel, and Bernie Marcus from Home Depot. Because Mr. Sprecher is married to the candidate, we can combine their totals into a new category called "The Loefflers" (for simplicity's sake).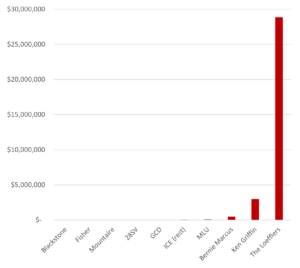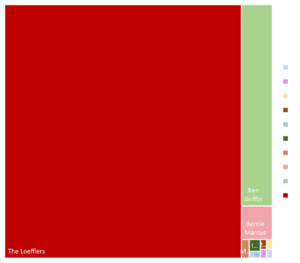 Here are 2 new views of our list using these names. Separating Mr. Sprecher's contributions knocks Intercontinental Exchange into 5th place, shifting Bernie Marcus into 3rd. Separating Ken Griffin from Citadel removes it from the top 10 entirely.
As we mentioned at the beginning, the GA Senate runoffs will decide the center of gravity in American politics for the next 2 years. That fact underpins the stratospheric projections of the combined cost of these races, which runs as high as $200m. That makes them the locus of campaign finance for the next two months, and Goods will be covering them in depth, beginning with this post. To see the rest of the series, click on the links below when they become active:
David Perdue
Jon Ossoff